Velkommen til vores hus i nummer 2's hjemme side
Siden er stadig under opbygning - og vil formentlig vedblive med at være det, indtil huset står færdigt!
Denne hjemmeside er omkring vores husbyggeri i Odense. Den er mest lavet for, at vores familie og venner kan følge med i byggeriet.
Da der stadig er mange bygge-materialer på grunden - og dette er side, som er frit tilgængelig for mere suspekte typer, vil vi ikke angive adressen på hjemmesiden... Men... I skal nok få den alle sammen...
Da vi som bekendt har mange venner i udlandet, vil en del af teksten være på engelsk - således at de udenlandske venner også kan følge med. De fleste af Jer har ikke problemer med det engelske - men hvor vi har fundet det nødvendigt, har vi angivet det danske ord i en firkantet parentes. Derudover er alt, hver der skrevet med dansk angivet med kursiv.
I er meget velkomne (tag det som en opfordring!) til at komme med bemærkninger og kommentarer til os. Bare følg linket "Feedback".
Ligeledes kan I tilmelde jer vores nyheds-mailing liste.. Følg linket "Newsletter".
Vær opmærksom på at bag næsten ALLE billeder er der links der enten viser flere detaljer - eller billederne i en større udgave.
Knus
Mathilde, Christine og Thomas
PS... Spørgsmål til hjemmesiden kan gives til...
Welcome to the home page about our house in number 2!
The page is still under construction - as is our house! :-)
As you all know - we have a lot of friends outside of Denmark. Our web-site has therefore been created partly in English. There are some exceptions to the rule... so if you're having difficulty understanding something - it's probably because it's in Danish :-)Usually the Danish will be in brackets [firkantet parentes]. If a sentence is totally in Danish it will be written in italic.
This web-site is about the construction of our house. As most of you know - we have already been into the building process for a while. But now we finally had time to release the web-site.
We hope that you will enjoy it - and that you will leave a message for us in the guest-book.
Be aware that behind almost ALL of the pictures are links if you want to see either more detail or a larger sized version of the picture.
Love
Mathilde, Christine & Thomas
PS. Questions about this homepage can be sent to... Christine.Green@tiscali.dk
Our house is a detached, bungalow type house. It is built in Odense, Fyn, Denmark - the birth city of Hans Christian Andersen..

More....About our house

The first picture of the lot of land... as shown on the website of the real estate agent..

Det første billede af vores grund - så vi i salgsannoncen fra ejendomsmægleren.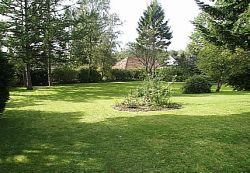 Are you interested in all the details...

Er du interesseret i detaljerne...

The kitchen and bathroom...

Køkken og bad...

The chosen materials

Materialer og links til leverandører...

The floors, the tabs, the bricks...
The photo gallery has some of the pictures we have taken since we bought the plot of land. Some of the craftsmen [håndværkerne] actually requested payment to pose on the pictures! :-) We have tried to make it easy for you to see the pictures - but follow the link and you will see...

Foto-galleriet omfatter en del af de mange billeder, som vi har taget siden vi købte grunden. Nogle af håndværkerne forlanger penge for at posere - bl.a. dejlige Basse. Basse er "alt-mulig-manden" med den store gravko! Vi har prøvet at lave det nemt for Jer at se billeder - både hvis I ønsker en masse detaljer - og hvis I bare vil have et overblik. Klik på linket..Photo Album
Newsletters and mailing list

[Nyhedsbreve og mailing liste...] Newsletter

Feedback Comments Greetings

[Modtages med kyshånd] - Feedback